HOW IT STARTED
?
Christine Sindt, OD,
FAAO, FSLS, developed the concept of EyePrintPRO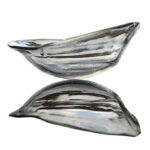 Christine Sindt, OD, FAAO, FSLS, developed the concept of EyePrintPRO in her early years as an optometrist. As she devoted her career to providing the best possible care to patients with diseased and irregular corneas, her ambition to advance the standard of contact lens care only grew. After developing the EyePrint Ocular Surface Impression Process, she partnered with Keith Parker, the president of Advanced Vision Technologies to assist in the development of manufacturing this highly customized contact lens. Together, and with the help of many dedicated colleagues, they have greatly improved contact lens fitting technologies and delivered life changing vision and ocular comfort to many patients.
The EyePrint Prosthetics headquarters is located in Lakewood, Colorado, a suburb of Denver. From this location, EyePrint Prosthetics' staff works closely with a tight-knit network of specially trained and certified practitioners across the globe. EyePrint Prosthetics teams up with some of the world's most esteemed
practitioners to provide the highest standard of care to patients with extreme ocular conditions. All EyePrint Practitioners undergo training in the EyePrint Impression Process before they are certified and listed on the EyePrint referral network. Through this collaboration with EyePrint Practitioners, the EyePrintPRO has helped many patients who had no other options because of the irregularity of their ocular surface.
The flagship product, the EyePrintPRO™, allows patients with ocular disease, complicated optics, and severely irregular ocular surfaces to experience the vision, comfort, and ocular health benefits of customized contact lenses. The numerous benefits of the EyePrintPRO are enabled through patented Elevation Specific Technology™ (EST).
The EyePrint Impression Process captures the exact shape of a patient's eye, providing a 3D model of the entire ocular surface. EyePrint Prosthetics utilizes EST to match the elevation differences of each individual eye with a perfect fitting contact lens.
Given the proven success of the EyePrintPRO, EyePrint Prosthetics wanted to bring Elevation Specific Technology to even more patients. With this desire to continue to push boundaries in the eye care world, EyePrint Prosthetics expanded its family of products to appeal to patients with less ocular surface irregularity with the development of EyeFitPRO and ScanFitPRO.
EyePrint Prosthetics is constantly working to improve the patients' experience with their corneal health, vision, and comfort through our advanced technology.